NextLevel Acoustics Fusion S3 Soundbar Provides Big Sound in Slender Package
/
in Press
/
by Robert Goldman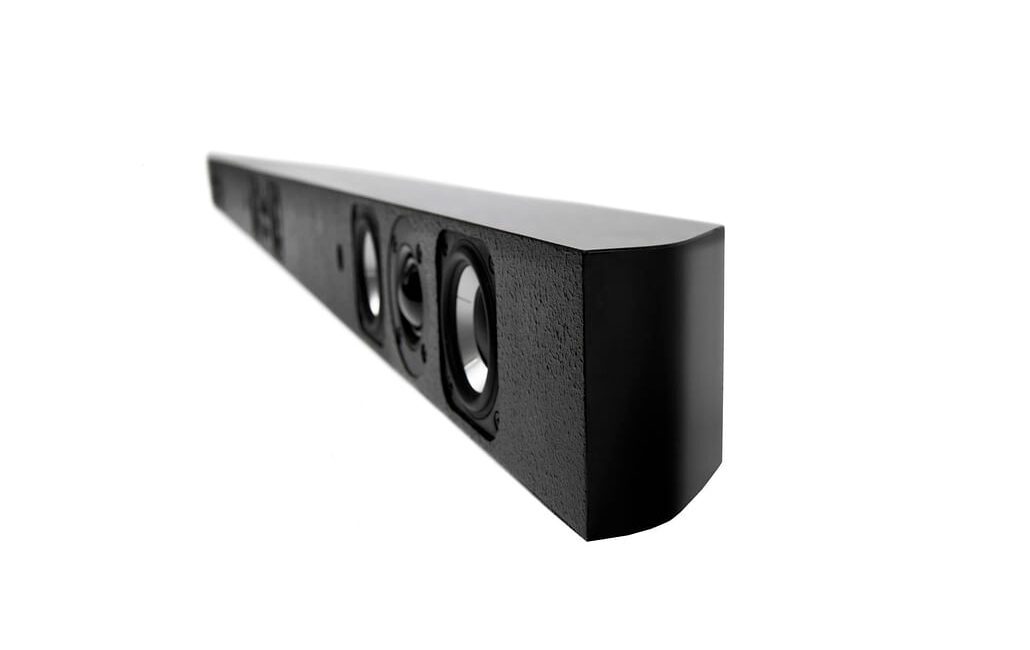 In a market flooded with options, it's often hard for integrators to parse which soundbar is the perfect solution when selecting items for a residential project. Between wireless AV options, passive vs. active considerations, and industrial design, there are simply so many factors to consider.

This is where the Fusion S3 Soundbar from Next Level Acoustics comes in. Designed to fit snugly underneath a flat-panel TV while mounted above a fireplace, the company's goal is to create a goldilocks soundbar that pairs perfectly with a subwoofer to create an immersive home theater experience for clients on a moderate budget.
While this is a lofty goal, Next Level Acoustics accomplishes this task well with the Fusion S3 and solidifies its spot as a unique option integrators should consider when tackling their next home theater project.
Features and Set Up
As with most passive speakers, the features list for the Fusion S3 soundbar is somewhat limited. Next Level Acoustics says the product includes its proprietary crossover configuration to improve sound quality, as well as a textured front surface to minimize high-frequency reflections. While it is a little difficult to verify the effectiveness of these inclusions, I only ever noticed one instance of echoing and no instances of oversaturated bass while listening in my untreated living room.
Next Level Acoustics offers the Fusion S3 in three stock sizes; 55 (48.8-inches wide), Fusion S3 – 65 (56.9-inches wide), and Fusion S3 – 75 (65.9-inches wide). For the purposes of this review, I was given the Fusion S3 – 65, which pairs perfectly with my 65-inch 4K Sony TV.
The main selling point and feature of the Fusion S3 soundbar is its height. Measuring only 2.95-inches of overall height, the soundbar is positively tiny. This slim, shortened design makes it perfect for installing in rooms where space is a limiting factor, or when installing a TV mounted above a fireplace, as it won't interfere with the view of the fireplace and comes in a sleek high-gloss black finish to integrate into a myriad of home decor preferences. Next Level Acoustics also offers custom grille and body finishes upon request, so integrators can more easily match the decor of a given install.
The Fusion S3 comes shipped in a long, well-padded box that includes only the speaker itself with no instructions necessary since the set-up is a straightforward process for anyone with passive speaker experience. As with many passive soundbars, all I needed to do was run a few speaker cables with banana plugs from my Yamaha RX-VA6 receiver into the designated ports in the back of the soundbar. There are three separate ports that need cables run to them (left, center, and right channels), but beyond that, all I had to do was run an HDMI cable from the receiver into the ARC port on my TV and I was ready to rock. 
For my untreated living room, I placed the soundbar behind the TV with about 6-feet of space between the home entertainment console and the first seat on the couch. The average seating distance is closer to 12 feet on average though, which was never an issue while testing the speaker beyond an occasional echo toward the back of the room. While ideally the product would be placed in front of the TV, the speakers inside the soundbar have a clear path to the audience with my current setup.
Performance and Final Thoughts
Prior to checking out the Fusion S3 soundbar, my only soundbar experience was using a cheap Vizio soundbar that was good enough at producing audio for TV shows but struggled with music, and a first-generation Sonos soundbar that did the job well enough but required a few surround speakers to really produce high-quality audio. This is to say that the Fusion S3 is by far the most complete, all-in-one soundbar I've ever tried to date, even without pairing it with a subwoofer as the manufacturer suggests.
Since I listen to a lot of diverse genres of music, I decided to first run the Fusion S3 through its paces while listening to Spotify streaming audio via my smart TV's app. I started off listening to indie rock, primarily songs with acoustic guitar and minimalistic vocals (stuff without reverb, layering, etc) so I could get a feel for how the soundbar responds to clean production. I'm happy to report that all of the tracks I tested sounded true-to-life, almost as if I was paying for a private session from John Darnielle of The Mountain Goats. The band's song "In Corolla" shows the delicate balance the S3 can provide to acoustic tracks, as it skillfully and seamlessly blends the punchy main riff with the much more subdued vocals to create a truly transportive experience.
While checking out jazz and R&B songs like Snarky Puppy's "Kite", I was struck by how effortlessly the soundbar can handle the brightness of brass instruments, the bassy hum of stand-up bass and tuba, and the luscious resonance of violins, guitars, and the track's famous flugelhorn solo. I will say that jazz tracks often benefit from a dedicated subwoofer, and that's true here too, but as a standalone product the S3 handles bass response better than any soundbar I've heard.
Finally, I spent some time checking out rock and metal vinyl records on my Pro-Ject Essential III turntable to see how the system would handle more intense, high-frequency tracks via a warmer physical medium. The most striking experience I had while testing these genres was with Circa Survive's "Sleep Underground", which is a track I often use to test how well systems can cut through the audio noise in the middle frequency range of a track, where a bunch of instruments are all jammed together into an ethereal mess.
On the S3, each element of the song was clearly separated around the soundstage of my living room, with the S3's showcasing good bass response that is especially critical for this track, as the song can get a bit "tinny" sounding on budget systems. The only time I felt the soundbar struggled was with particularly harsh music like extreme metal or doom metal, which often relies on highly distorted guitars that occasionally caused some mid-range balance issues that I was able to solve with EQ adjustments.
My time spent testing the S3 while watching TV and films was equally enjoyable. Shows like "Anthony Bourdain: Parts Unknown", which has excellent sound design, show how well the system can blend narration-focused content with international music without drowning out what Anthony is trying to communicate, something my 5.1 setup in my room struggles with. I also watched "Black Swan" on Hulu and found the music used during the ballet segments really popped, something that always felt shoved into the background during previous watches. Similarly, I felt the deep, rich tones of Morgan Freeman's voice were particularly captivating while watching "Bruce Almighty" with my family, which really shows the range of the system.
There's not a lot to complain about when critiquing what Next Level Acoustics has created here. While I do feel the soundbar would benefit from being paired with a similarly priced subwoofer, and it can suffer a bit when listening to heavy metal and hardcore music, it stands out as a relatively budget-friendly option for integrators looking to spruce up a home theater install significantly with minimal frustration. The sound signature is very forgiving, and in my experience it should allow installers to tweak receiver settings at will without hamstringing either music or movies.
Integrators looking for a solid, reasonably priced soundbar to add into home theater or master bedroom projects should definitely give the Fusion S3 a look, and if mounting a TV over a fireplace is on the docket, I'd recommend starting your equipment list with Next Level Acoustics.
---
CE Pro Verdict:
Pros:
Robust and full sound while watching movies or while listening to music.
It's small size makes it perfect for over fireplace installs or when sharing space with a TV on a table/in a stand.
Simple to install, requiring only a few speaker cables and some banana plugs.
Cons:
While it sounds good on its own, the S3 will likely sound best when paired with a dedicated subwoofer.
Some may experience slight issues with particularly heavy music, which can cause some midrange balance issues.
https://nextlevelacoustics.com/wp-content/uploads/2015/11/tumblr_inline_nxz03vdsQU1td59gq_540.jpg
155
213
Robert Goldman
https://nextlevelacoustics.com/wp-content/uploads/2022/10/larger-copy-right-logo.png
Robert Goldman
2021-08-17 21:41:21
2021-11-19 16:20:54
NextLevel Acoustics Fusion S3 Soundbar Provides Big Sound in Slender Package