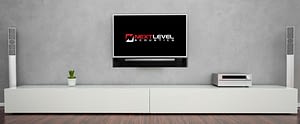 Next Level Acoustics Elite Series for Playbar
By Julie Jacobson / CE Pro, October 09, 2015 (full article)
Leon isn't the only game in town when it comes to Playbar accessories. Founded this year, Next Level Acoustics also makes a product that allows the Playbar to attach cleanly to a TV and disappear beneath a magnetic grille.
The Elite Series Sonos Playbar Case comes in various sizes to match different TVs, and it features tapered ends to mimic the side perspective of a display.
Next Level owner Robert Goldman tells CE Pro the the acoustic qualities of the case "enhance the sound of the Playbar itself."
Interior side reflectors focus sound to the listening areas to improve intelligibility, according to the company, and a rigid cavity increases mid-bass performance. There's an open top panel with inset grilles to provide the "necessary high-frequency 'breathing room'" to match the Playbar.
The removable magnetic grille is partially inset for "additional structural integrity," and the mesh weave on the grille allows for IR pass-through.
Goldman says Next Level is currently developing a bracket back option for the Elite Case that will pair with a depth-adjusting bracket (AEON-90200 by AV-Express) that mounts to the TV. The combo will allow the Playbar case to swivel.
According to Goldman, the bracket back model may be mounted directly above or below the TV while the TV is on its own factory stand, using the mounting holes on the back of the TV.
"The bracket back model allows for 4-inch depth adjustment forwards and backwards," he says, "to ensure that the case is perfectly flush with either the top or bottom of the TV."
Next Level also offers snap-on grilles in different sizes to best match the display.
https://mld7jojt5ewq.i.optimole.com/3T5I9_4-yLyPlsDu/w:auto/h:auto/q:auto/https://nextlevelacoustics.com/wp-content/uploads/2015/08/resized-picture-A.jpg
683
1024
Robert Goldman
https://nextlevelacoustics.com/wp-content/uploads/2020/04/screen2.png
Robert Goldman
2015-10-14 02:39:54
2017-01-08 13:37:49
CEDIA 2015 CEPro Article